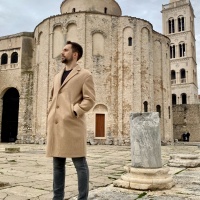 Jurica Šango
Being born and raised in Zadar, I always wanted to know more about the city, history and culture. However, I also wanted to be an engineer and see the world. So, I finished Engineering university and moved to The Netherlands to work as a Sales Engineer in one big Japanese corporation. Working in a Japanese corporation in the Netherlands with more than 40 different nationalities under 1 building thought me a lot about respect, work ethics, organizational skills as well as teamwork. In addition to this, my Sales Engineering role was all about connecting people and the product we were selling, so I developed soft skills even more.
However, after 5 years I realized, I don't want to work 9 to 5 all my life and I wanted to experience something new, fresh and dynamic. Something that includes more face-to-face interaction in a laid-back, open and relaxed atmosphere. Also, I was fascinated with easy going lifestyle, beautiful nature, perfect weather and fresh Mediterranean food I was used to growing up in Zadar. So, moving back and starting tour guide career was very logical to me.
In addition to being the tour guide in Zadar, I opened my own travel and transportation business named: 'Travel with Jure', that is offering driver-guide services to our beautiful National Parks and other beautiful nature sites around Zadar.
Zadarska

Engleski

Hrvatski